Sorry to all visiting, I been lacking on staying commit to writing poetry or expressions everyday, today is the 14th, missed 4 days. Yet I did add others so that should give me a break, it does not matter, as no one complains or compliments, so I will will express to my heart's contentment or heart's breakage. I will write my expression as a separate dedication to women of domestic violence, a message and a warning expression. As these words came fleeting in my mind, I desired to share in a new blog, when I awake this morning. Past experiences and helping others escape domestic violence.
Lighter Subject
As a reader of the Spring Give Away promotion I was lucky to win this amazing book:
The Impostor, A Love Story
The Impostor, A Love Story (The Alaska Trilogy)
Sometimes a book or a coincidence comes in people's lives for a wake up call. This was one of those wake up calls. Author Tiffany Carmouche has a natural and witty as well as sensual writing style. She touches upon domestic violence and how a brave woman started a journey and finds herself, her strength and maybe her dreams, in the wilderness of Alaska. This reader gave it 5 stars as it was touching, realistic and sensual with warmth, excitement and adventures. A love story with the exotic setting of Alaska. Fill with gorgeous protectors and deceivers in every which way or direction the character travels. A definite page turner as of course the twist is a serial killer is thrown into the mix. Fast paced and compelling, a winner. Highly recommend this author's books, entertaining and thought provoking.
http://www.amazon.com/Impostor-Story-Alaska-Trilogy-ebook/dp/B009KDVRSC/ref=sr_1_1?s=books&ie=UTF8&qid=1365974794&sr=1-1&keywords=tiffany+carmouche
https://www.smashwords.com/profile/view/tiffanycarmouche
book in the Spring Give Away, under Facebook events this weekend.
https://www.smashwords.com/books/view/269516
The Impostor, A Love Story
Fiction
»
Romance
»
Suspense
Fiction
»
Women's fiction
»
Chick lit
Extended description
The Impostor, A Love Story is the first novel in a suspenseful romantic trilogy about unexpected love and a woman's fight for survival. It is a captivating story of growth, acceptance, and the perseverance to begin again.
"Alaska? Who goes to Alaska?" Nicole, a young single mother, escapes an abusive ex-boyfriend and leaves behind the broken dreams of becoming an artist. She travels to Alaska, a place she knows little about, on a journey of self-discovery.
Nicole is scared of getting hurt again, but Dylan's chiseled body, chocolate-brown eyes and charm captivate her. She begins to fall in love. In Alaska, she discovers the power of friendship and true love and starts to let down her guard. But is her security a facade?
Soon Nicole's innocent beauty taunts a sinister man, and she is caught in a web of deception and danger. Someone evil is stalking her. Will she be saved? Or will she be hunted?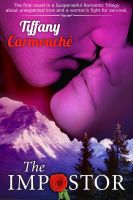 By
Tiffany Carmouche
http://www.amazon.com/Tiffany-Carmouche/e/B009KVTI62/ref=ntt_athr_dp_pel_1
author page
bio
When Tiffany Carmouché is not writing romance novels, you can find her sculpting, traveling, teaching, singing, dancing, escaping in music or enjoying her family.
From skydiving in Alaska to scuba diving in Hawaii, Carmouché has traveled the world seeking adventures. These include riding camels in Africa, swimming under the stars in Puerto Rico, dancing salsa in Ecuador, and walking the cobblestone roads of Assisi, Italy.
She has also found fulfillment working with the disabled and orphans in Argentina and Mexico. Her most cherished moments, however, have been watching her two beautiful daughters grow and strive to accomplish their own dreams.
Despite all of these amazing experiences, she has survived many struggles. There was a time she felt defeated, but now she is recommitted to savoring experiences both in the novels she writes and in the life she lives each day.
Her secret hope is that anyone who is struggling will realize there is a light at the end of the tunnel and no matter how hard the fight, no matter how many times they have been knocked down, it is always worth staggering up to their feet and learning to breathe again.
She is working on a project helping others too: amazing:
http://tiffanycarmouch4.wix.com/step-up#!out-of-the-shadows/c21jb